The attire choices you make every single day define you in more ways than you are perhaps even aware of. The arena in which appearance matters most, is one's workplace. Besides being great at your job, you also have to look the part: a proper business attire and posture are almost as important as what you bring to the table. In order to master workwear, we have taken one of the most esteemed style icons as an example, the one and only Mrs. Victoria Beckham.
A great coat will get you everywhere
One of Victoria's most important fashion staples is her outerwear, which is always spot-on. A well-tailored, fitted coat conveys to the world that you are a goal-getter. It oozes elegance and sophistication, which is the exact impression you want to make when it comes to your workplace. A black blouse underneath and topped off with a pair of heels is a must for a winning combo.
Work footwear reinvented
If you dread wearing heels, it is perfectly okay: Victoria trades them for sneakers all the time. With the right kind of pants, you can even rock white or metallic sneakers, which will add a touch of drama yet remain within the office dress code. Just make sure you keep the rest of the outfit business casual, like Beckham here, so your footwear does not stand out.
Black exudes power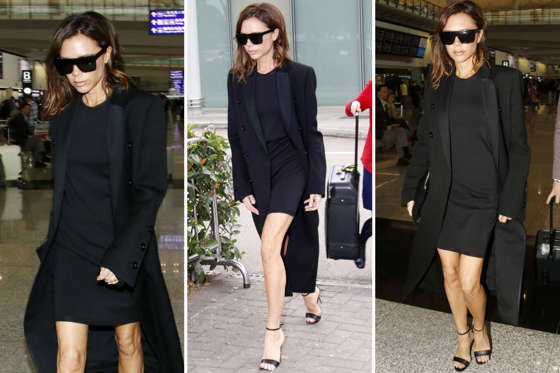 Aside from being the color that is the mark of ultimate sophistication, studies have shown that black exudes authority. Victoria is certainly familiar with the effect this color has and is not afraid of rocking an outfit that is all black everything. Don't forget to add, of course, the ultimate Beckham staple: effective eyewear. This is the outfit you need to have in your wardrobe, for every time you need that extra boost of confidence and fierceness.
Matchy-matchy is back
Forget everything you have been told about matching items being outdated, Beckham is here to prove otherwise. While she does not shy from color or print, she chooses a look that still feels professional. Be bold, embrace colors and patterns, and do not be afraid to wear an outfit that is matchy matchy. As you can see, it looks absolutely flawless!
Chic and comfy
Another great lesson Victoria teaches us: you do not always need to have sharp and smart attire in order to pull off a great office look. To shake things up and still remain professional, knitwear does the trick! When you have a ivory sweater like this on, anything you add to the outfit looks incredibly chic. No matter if it is a skirt or pants. Add a solid leather tote bag to the mix, and you are ready to take on the day.
---
Writen by Peter Minkoff
Guest writer Peter is a beauty and fashion writer at Bonafide Supernova and Ivania's Mode magazine, living between UK and Australia. Follow Peter on Twitter!